Every working day in the UK, two construction workers take their own lives – hundreds of good men and women whose time ends before it ever should.
In mental health awareness week my thoughts, naturally, turn to the child whose dad never came home or to the parents of the young apprentice, who had their whole life ahead of them – the list is long and sobering. The word crisis is often over-used, but in this case surely it is spot on or maybe even understated. So, as we raise mental health awareness this week, let's look at what the industry is doing and how we can tackle this together.
Let's be frank, if we had two construction workers a day who died on site through poor safety, the reaction would be so different. Moreover, let's be honest, it is different. Despite still having some way to go, the construction industry, has moved mountains in relation to safety over the past decades. In the 1960's and 1970's there were hundreds losing their lives every year, through poor on-site safety – now we consistently see less than 40. The UK has one of the lowest workplace death rates in the world. You only have to look at the excellent safety record of our Olympic Games in 2012 compared to those that have followed, to show we are world leaders in this area.
So now the time has come for us to lead the world again. This time the battle isn't before our eyes and we can't simply touch it or make a modification – it is hidden and silent, but sadly deadly. So, my question is, where is the industry-wide outcry? Well it has started and I think the last five years have seen us build the foundation to fight this battle together.
At the Guild we haven't hidden from the challenge – we've tackled it head on. All our managers and team leaders have attended mental health first aid training and we regularly receive guidance on support available and our offices are signposted with support. Most importantly, I believe it is a place where mental health can be discussed and supported openly. It isn't a topic we hide – I have personally been supported by colleagues in my own battles.
The Guild approach, in its simplicity, may hold a lot of the answers. The workplace has to be open, tolerant and supportive. Our friends at the Lighthouse Club working with organisations such as Mates in Mind and Mental Health for England have done superb work to support construction workers. This year the Lighthouse Club have rightly called for the following 5 steps to tackle the crisis.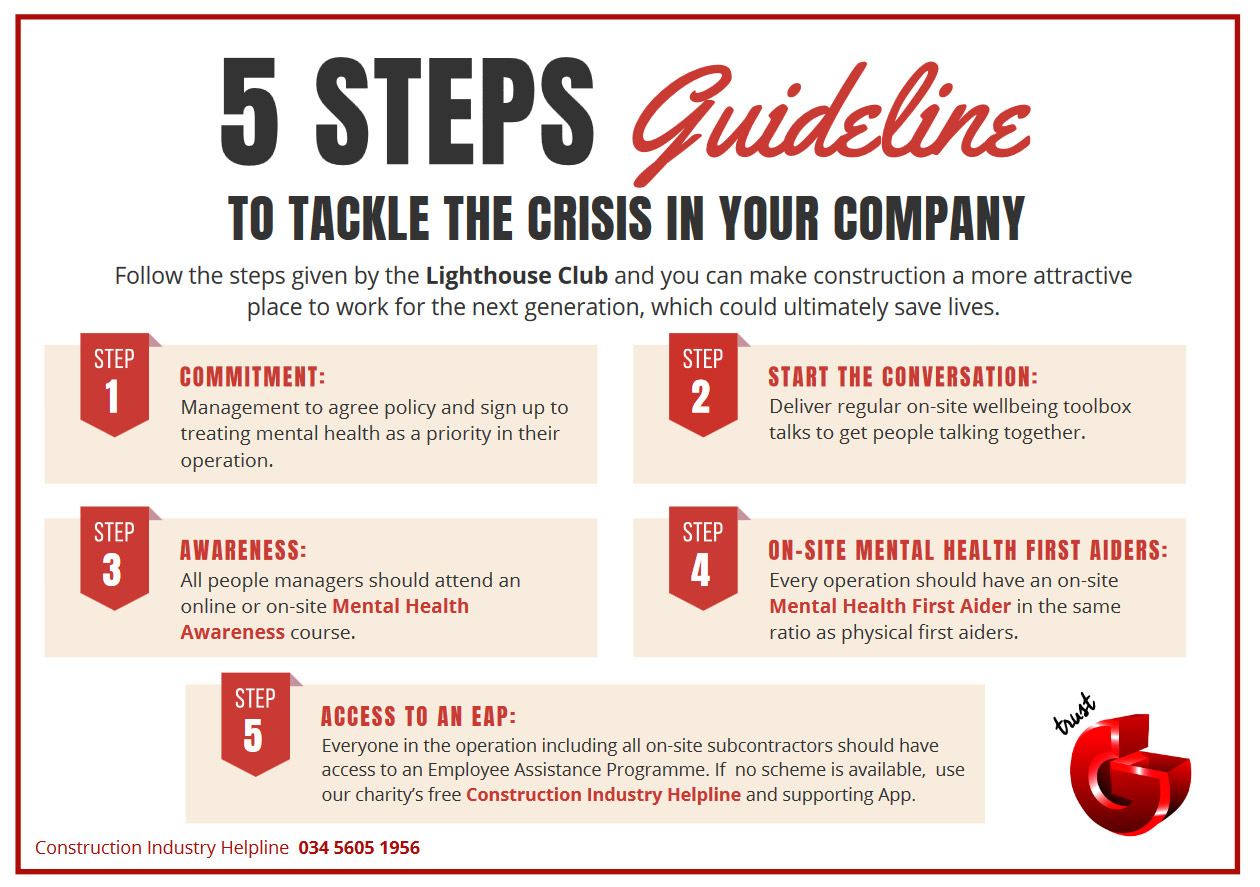 Following these simple five steps incurs little cost, makes construction a more attractive place to work for the next generation and could ultimately save lives.
So, the time has come to pull together to tackle this crisis. I'm delighted to announce that this week The Guild will be signing the Building Mental Health Charter – and take yet another step in supporting good mental health.
For those who need support, we recommend the Construction Industry Helpline – This is a 24/7 helpline with the slogan: "It's time to change, it's time to talk."
The helpline is managed and funded by the Lighthouse Construction Industry Charity. The Lighthouse Construction Industry Charity is funded by the industry, for the industry.
In these uncertain times and at any other time, remember, it's ok to talk.
Peter Smallwood,
The Guild Public Affairs